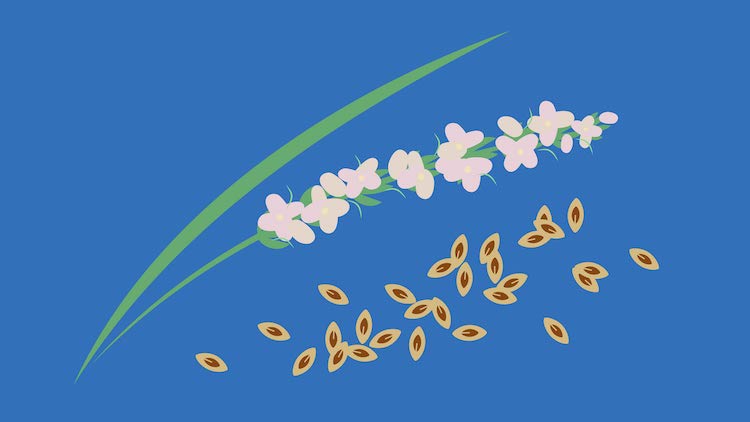 If you've been looking for ways to combat gut issues, or simply maintain your gut health, chances are you've come across something called "psyllium husk." But what exactly is it, and how does it work? (Also, how do you even pronounce it? 😅) Read on to learn more.
What is psyllium husk?
Psyllium ("silly-um"—easy, right?) husk is basically just the fiber-filled outside of the seed of a plant called Plantago ovata. It's been consumed for centuries, and has been tied to improved digestive function, along with a handful of other benefits for your health. Many fiber supplements use it as a natural source of fiber.
Psyllium husk is prebiotic, meaning it provides healthy bacteria with the nutrients they need to function at their best. 
What is psyllium husk used for?
Psyllium husk has many uses:
Psyllium husk is a bulk-forming laxative.
Here, "laxative" doesn't mean that psyllium husk will run right through you—but it will help you poop. The fiber within psyllium husk is soluble, meaning it swells and turns into a gel-like substance when mixed with water. Once you consume it and it travels through the digestive tract, its gel-like properties allow it to absorb water and loose materials, which results in a bowel movement that's comfortable to pass. This also helps combat constipation and its associated issues like hemorrhoids. 
Psyllium husk feeds the good bacteria in your gut. 
Psyllium husk is prebiotic, meaning it provides healthy bacteria with the nutrients they need to function at their best. This is especially true for the bacteria in your gut microbiome.
Psyllium husk contains fiber that may benefit heart health. 
Many studies have linked soluble fiber—the kind of fiber that psyllium husk is—to healthy cholesterol levels. This is associated with a lower risk of heart disease. Psyllium has also been associated with benefits to blood pressure, lipid levels, and heart muscle.
Psyllium husk can help curb hunger.
Remember that gel-like substance that psyllium turns into when mixed with water? It sends signals to your brain that you're full, helping you eat less. In turn, your reduced calorie intake from not eating as much can contribute to weight loss.
Powdered supplements like Bellway make it easy to incorporate psyllium husk into your daily routine. 
Psyllium husk may help maintain your blood sugar levels.
The super gel formed from psyllium husk has yet another power: It absorbs sugar and carbohydrates from your food, delaying sugar absorption into the bloodstream in such a way that maintains healthy levels of blood sugar. This is especially helpful for people who have diabetes.
When should I take psyllium husk?
People with certain conditions can benefit from taking psyllium husk, but it's safe for most people to take daily. Just be sure to drink plenty of water when you do. 
Powdered supplements like Bellway make it easy to incorporate psyllium husk into your daily routine. Unlike other brands' supplements, Bellway's are made with no artificial ingredients and flavored with real fruit—so no fake stuff, for some real good sh*t. (Literally.)