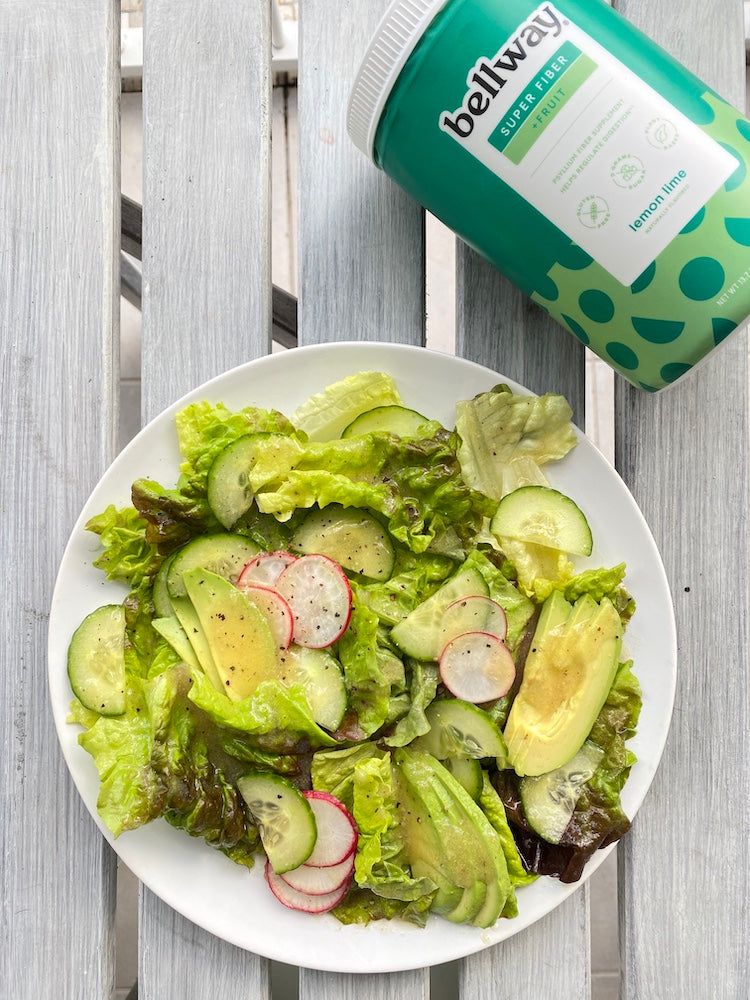 Did you know that you can cook with Bellway supplements? It's an easy way to add some fiber to your everyday eats without adding any artificial ingredients, sugar, or gluten! To make things even easier, we're bringing you Fiber-Ful Recipes that use Bellway Super Fiber for that extra oomf.
Today's recipe is brought to you by our friend Ananda Eidelstein, Food Editor at Real Simple. It's her super-easy Quick Lemon-Lime Vinaigrette, the perfect addition to your salads. (It's much needed, too; it can take as many as 10 salads to get the fiber you need in a day!)
Check out the recipe below!
Quick Lemon-Lime Vinaigrette Recipe
(Makes about ½ cup)
Ingredients
2 Tbsp. extra-virgin olive oil
1 Tbsp. apple cider vinegar
1 tsp. grated fresh ginger (preferably on a Microplane; from 1 1-inch piece), optional  
1/2 tsp. kosher salt
Freshly ground black pepper 
1/2 scoop Bellway Super Fiber + Fruit in Lemon Lime (about 1¼ tsp.)
Serving Suggestion
1 head Red leaf lettuce, Bibb lettuce, or Butter lettuce, chopped
English cucumber, radishes, and avocado, sliced, for serving
Directions
Place the oil, vinegar, 1/4 cup water, ginger (if using), salt, and several grinds pepper in a medium jar or container with a lid. Place the lid tightly on the container and shake vigorously until well combined. Use immediately, dressing will thicken as it sits.
Dress lettuce with desired amount of dressing. Serve and top with cucumber, radishes, and avocado or build your own salad as desired.